You must enable your javascript to see the countdown timer
Today is the day!
YJ Tie-In Comics Awareness Campaign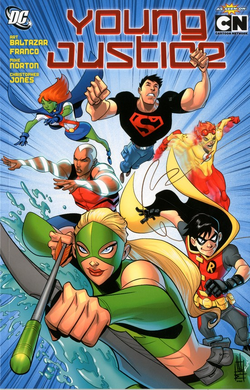 Young Justice is the name of a spin-off comic book series published by DC Comics and based on the television show of the same name. The series debuted on January 19, 2011 with issue #0, less than one week after the airing of the second episode of season one. It was written by the show's producer Greg Weisman and staff writer Kevin Hopps. For the following six issues, Weisman delegated the writing to Art Baltazar and Franco Aureliani, so that Weisman and Hopps could focus on the scripting, pre-production and post-production of the animated series. However, Brandon Vietti, Weisman and Hopps supervised the writing of the comics to make sure everything was kept in continuity. Mike Norton provided the cover art for these six issues, as well as the interior art for the first four.
Starting with issue #5, Christopher Jones took over as the full-time illustrator for the series. He provided interior art and cover for all of the following issues, except for issues #5, #6 and #21, for which he only did the interior art, and issues #12 and #19, for which he only did the covers.
Read more >
| Topic | Last post | Last author |
| --- | --- | --- |
Copyrights
Young Justice and all characters, episode ideas, etc. are all registered trademarks of Warner Bros. Entertainment and DC Comics. The Young Justice Wiki is in no way affiliated with either company, and is purely for non-commercial and personal use. Anyone is free to use information from this site, as long as you do not use that information by plagiarism or use it illegally in any way that infringes on the trademark. If you do copy text, it is requested that you provide a link to the website or web page. The operation of this website is believed to fall under the United States "fair use" copyright laws. This is purely a "fan site," and does not pretend to be official in any way whatsoever.
Advertising
Advertising on Wikia is sold by Wikia Inc., and is not an endorsement of the products by Warner Bros., DC Comics, the Young Justice Wiki or its volunteers. To report an inappropriate advertisement, please contact Wikia Inc. directly using the
contact form
.