Home
Talk

162
1,142pages on
this wiki
The wiki about
Young Justice
that anyone can edit!
We are currently editing 1,142 articles and 1,535 images since August 2010.
Warning: Spoilers are to be expected when browsing the wiki.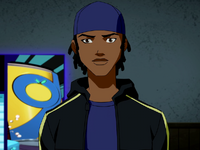 Static (real name Virgil Hawkins) is a teen from Dakota City and a liberated abductee of the Reach. After helping save the world from the Reach's Magnetic Field Disruptors, he joined the Team.
Virgil is an African-American teenager with short black dreads. He wears blue pants, a lighter blue t-shirt and fitted baseball cap in a backwards fashion, sneakers, and a black jacket with yellow accents on the arms and cuffs. When he joined the Team as Static, he made little changes to his attire. He only changed his shirt into a black one, with a golden lightning bolt in a circle. After being experimented on by the Reach for the Meta-Gene, Virgil developed the ability to magnetize objects.
Read more >
| Topic | Last post | Last author |
| --- | --- | --- |
Copyrights
Young Justice and all characters, episode ideas, etc. are all registered trademarks of Warner Bros. Entertainment and DC Comics. The Young Justice Wiki is in no way affiliated with either companies, and is purely for non-commercial and personal use. Anyone is free to use information from this site, as long as you do not use that information by plagiarism or use it illegally in any way that infringes on the trademark. If you do copy text, it is requested that you provide a link to the website or web page. The operation of this website is believed to fall under the United States "fair use" copyright laws. This is purely a "fan site," and does not pretend to be official in any way whatsoever.
Advertising
Advertising on Wikia is sold by Wikia Inc., and is not an endorsement of the products by Warner Bros., DC Comics, the Young Justice Wiki or its volunteers. To report an inappropriate advertisement, please contact Wikia Inc. directly using the
contact form
.