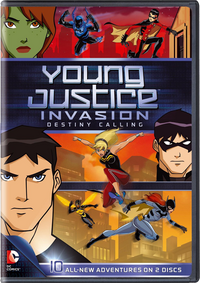 Young Justice: Invasion – Destiny Calling: Season 2 Part 1 is a two-disc DVD set that contains the first ten episodes of season two of Young Justice, along with three additional bonus episodes from the fan-favorite Batman: The Brave and the Bold animated series. The DVD hit the shelves on January 22, 2013.
Episodes
Disc 1:
Disc 2:
Bonus episodes
Batman: The Brave and the Bold:
"Rise of the Blue Beetle!"
"Fall of the Blue Beetle!"
"Revenge of the Reach!"
Goofs
The back cover depicts Wonder Girl with atypical long sleeves, as does the disc art.
The art used for the menu system is taken from screenshots of season one. Only the disks art features characters from season two.
See also
Source
External links
Ad blocker interference detected!
Wikia is a free-to-use site that makes money from advertising. We have a modified experience for viewers using ad blockers

Wikia is not accessible if you've made further modifications. Remove the custom ad blocker rule(s) and the page will load as expected.