Ad blocker interference detected!
Wikia is a free-to-use site that makes money from advertising. We have a modified experience for viewers using ad blockers

Wikia is not accessible if you've made further modifications. Remove the custom ad blocker rule(s) and the page will load as expected.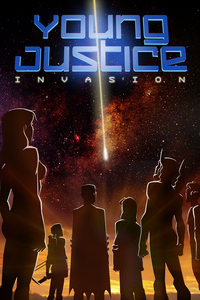 Young Justice: Invasion is the second season of Young Justice, preceded by season one, and it is comprised of 20 episodes.[1] It was expected to air in March 2012, during the premiere of DC Nation,[2][3] but was later set to premiere on April 28.[4]
The story follows the teenage superhero members of the Team, as they must deal with an alien invasion.[5]
The first episode takes place on January 1, five years after the first season concluded.[2] Unlike the previous season which featured a spate of guest directors, the season two production team hired a permanent set of three directors: Tim Divar, Doug Murphy and Mel Zwyer.[6]
Major plot lines
Five years have passed since season one, bringing drastic changes, including many alterations to the line-ups of both the Team and the Justice League.
Public perception of super-heroes takes a turn for the worse, thanks in particular to the GBS commentaries of G. Gordon Godfrey.
The heroes discover what occurred over the missing 16 hours, during which six Leaguers were under Vandal Savage's mind control. As a result, those same Leaguers leave Earth to undergo a criminal trial on Rimbor.
Multiple aliens have secretly invaded the Earth, operating there for unspecified purposes that include abducting and experimenting on humans.
Having nearly been consumed by his five-year search for Speedy, Red Arrow finally finds the original Roy Harper with the help of his estranged wife Jade Nguyen, who also introduces Clone-Roy to their daughter Lian Nguyen-Harper.  Together, they bring Speedy back to Star City.
Aqualad is on a deep cover mission for Nightwing, posing as the loyal lieutenant of his father, Black Manta.  As part of this mission, Artemis's death is faked and Mount Justice is destroyed, all to advance Aqualad's credentials with Manta, the Light and their Partner.
Sportsmaster and Cheshire vow vengeance on Aqualad and Black Manta for the 'death' of Artemis, when in fact, Artemis has gone under cover as Tigress.
In a paroxysm of anger, Miss Martian puts Aqualad in a catatonic state, before finding out that his betrayal and Artemis's death were staged.
The Reach makes themselves known to the public, professing good intentions, but all the while concealing a hidden agenda.
The Reach manufactures food for human consumption with eerie purposes.
The abductees manifest superhuman abilities and are recruited by Lex Luthor.
Learning from Impulse that he will bring upon an apocalypse, Blue Beetle is determined to remove his scarab.
Sportsmaster defects from the Light and pursues his vendetta against Black Manta and Aqualad with Cheshire. Deathstroke takes his place as the Light's enforcer.
A new Beetle appears, pretending to be an ally of the heroes, and offers to help Blue Beetle to take control of his scarab. However, it was all an elaborate ruse, as he is actually an agent of the Reach and manages to put Jaime under the control of the Reach.
Miss Martian is kidnapped at the behest of Black Manta and coerced to fix Aqualad.
Cast
Stars
Co-stars
Production crew
Producers
Directors
Writers
Episodes
Title
Directed by
Written by
Original air date
Production code
"Happy New Year"
Tim Divar
Greg Weisman
April 28, 2012
201

The Team takes on the intergalactic bounty hunter Lobo... as a precursor to an alien invasion![4]
"Earthlings"
Doug Murphy
Nicole Dubuc
May 5, 2012
202

Miss Martian, Superboy, Beast Boy and Adam Strange arrive on the distant planet Rann to stop the alien infiltration of Earth at its source.
"Alienated"
Mel Zwyer
Kevin Hopps
May 12, 2012
203

The Team and the Justice League continue to hunt the Kroloteans that have invaded Earth—but the aliens have help from an extremely unexpected source.
"Salvage"
Tim Divar
Greg Weisman
May 19, 2012
204

While Superboy and Blue Beetle battle Intergang, Nightwing and company try to salvage the soul of a former comrade fallen from grace.
"Beneath"
Doug Murphy
Brandon Vietti
May 26, 2012
205

Jaime Reyes searches for a missing friend, while Miss Martian, Batgirl, Bumblebee and Wonder Girl return to Bialya to discover what lies beneath.
"Bloodlines"
Mel Zwyer
Peter David
June 2, 2012
206

An intruder mysteriously appears inside Mount Justice, claiming to be a tourist from the future. But who is he really? And what is his true agenda?[7]
"Depths"
Tim Divar

Kevin Hopps (story);
Paul Giacoppo (teleplay)

June 9, 2012[8]
207

Artemis rejoins the team to defend a critical satellite launch. But will her first mission back also be her last?![8]
"Satisfaction"
Doug Murphy
Greg Weisman
September 29, 2012
208

Roy Harper seeks vengeance against the man who ruined his life.[9]
"Darkest"
Mel Zwyer
Jon Weisman
October 6, 2012
209

Black Manta has a new mission for his son: a mission that should prove once and for all exactly whose side Aqualad is on!
"Before the Dawn"
Tim Divar
Kevin Hopps
January 5, 2013
210

On a covert mission to rescue some of its own, The Team, Blue Beetle and Miss Martian uncover shocking secrets... and devastating truths![10]
"Cornered"
Doug Murphy
Nicole Dubuc
January 12, 2013
211

The Team is trapped inside the Hall of Justice for a cage match against a brutal alien gladiator![10]
"True Colors"
Mel Zwyer
Paul Giacoppo
January 19, 2013
212

When the REACH forms a devil's alliance with Lexcorp, Robin leads a squad undercover to investigate.[10]
"The Fix"
Tim Divar
Greg Weisman
January 26, 2013[11]
213

Black Manta seeks vengeance against Miss Martian.[12]
"Runaways"
Doug Murphy
Kevin Hopps
February 2, 2013
214

Nightwing tasks Blue Beetle with chasing down a group of potentially dangerous super-powered teenage runaways. But Blue's not the only one hunting them...[13]
"War"
Mel Zwyer
Jon Weisman
February 9, 2013
215

A conqueror from another world becomes a wild card in an intergalactic game of supremacy – placing planet Earth square in the jackpot.[13]
"Complications"
Tim Divar
Kevin Hopps
February 16, 2013
216

Black Manta gives Miss Martian twenty-four hours to live, but that may be more time than Aqualad has with Sportsmaster and Cheshire on the hunt for his head![13]
"The Hunt"
Doug Murphy
Brandon Vietti
February 23, 2013
217

A band of misfits is put to the test when Lex Luthor sends them behind enemy lines... to rescue the team![13]
"Intervention"
Mel Zwyer
Peter David
March 2, 2013
218

The team embarks on a desperate endeavor to free Blue Beetle.[14]
"Summit"
Tim Divar
Greg Weisman
March 9, 2013
219

The Light calls a Summit to decide the final fate of Aqualad, the team... and the entire planet Earth![14]
"Endgame"
Doug Murphy
Kevin Hopps
March 16, 2013
220

On the verge of finally ending the alien invasion, the team discovers the price of victory may be the entire planet Earth![14]
Ratings
| # | Episode | Original airing | Viewers | Target audience |
| --- | --- | --- | --- | --- |
| 01 | "Happy New Year" | April 28, 2012 | unknown[15] | 2+ |
| 02 | "Earthlings" | May 5, 2012 | 1.853 million[15] | 2+ |
| 03 | "Alienated" | May 12, 2012 | 1.761 million[15] | 2+ |
| 04 | "Salvage" | May 19, 2012 | 2.037 million[15] | 2+ |
| 05 | "Beneath" | May 26, 2012 | unknown[15] | 2+ |
| 06 | "Bloodlines" | June 2, 2012 | 1.944 million[15] | 2+ |
| 07 | "Depths" | June 9, 2012 | 1.890 million[15] | 2+ |
| 08 | "Satisfaction" | September 29, 2012 | 1.769 million[15] | 2+ |
| 09 | "Darkest" | October 6, 2012 | 1.982 million[15] | 2+ |
| 10 | "Before the Dawn" | January 5, 2013 | 1.773 million[15] | 2+ |
| 11 | "Cornered" | January 12, 2013 | 1.596 million[15] | 2+ |
| 12 | "True Colors" | January 19, 2013 | 1.982 million[15] | 2+ |
| 13 | "The Fix" | January 26, 2013 | 1.935 million[15] | 2+ |
| 14 | "Runaways" | February 2, 2013 | 2.123 million[15] | 2+ |
| 15 | "War" | February 9, 2013 | 1.987 million[16] | 2+ |
| 16 | "Complications" | February 16, 2013 | 1.993 million[17] | 2+ |
| 17 | "The Hunt" | February 23, 2013 | 1.990 million[18] | 2+ |
| 18 | "Intervention" | March 2, 2013 | 2.045 million[19] | 2+ |
| 19 | "Summit" | March 9, 2013 | 1.858 million[20] | 2+ |
| 20 | "Endgame" | March 16, 2013 | 2.051 million[21] | 2+ |
See also
References
External links