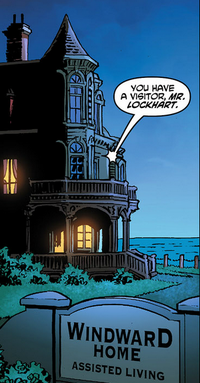 Windward Home is a retirement home in Bar Harbor.
History
2010
T.O. Morrow extricated Jim Lockhart from there.[1]
Sightings
Background information
In the comics, the Windward Home is a maritime colony founded by Jim Lockhart and Elsa Magnusson, appearing in Aquaman: Sword of Atlantis. Since its foundation shortly after World War II, it has become an outpost for Atlanteans.
References
Ad blocker interference detected!
Wikia is a free-to-use site that makes money from advertising. We have a modified experience for viewers using ad blockers

Wikia is not accessible if you've made further modifications. Remove the custom ad blocker rule(s) and the page will load as expected.