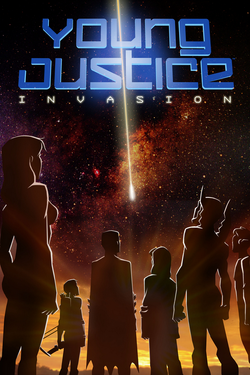 Does, everyone remember that old Young Justice: Invasion poster that was released at San Diego 2011 Comic-Con? Well since Invasion's premiere last weekend, Brandon Vietti has posted an update on his blog, where he reveals three of the characters on the highly talked-about poster. But before you read it, check out a higher quality version of the poster here!
In the post, Brandon reveals that almost everyone was right when they guessed that the character one place from the right was Blue Beetle, and that just to the left of the middle is in fact our new Robin, Tim Drake. In the foreground, is of course Wonder Girl. Apart from those three characters, the rest, as Brandon said, he "will leave to [our] imagination", adding "Maybe at the end of the second season I'll fill you in on who they're supposed to be and why we did or didn't include them in the show."
So, were you right? If so, about who? Who do you then think each of the other characters are? Post your thoughts in the comments below!
| | |
| --- | --- |
| | Please remain civil. You should not harass other users or their views. |
Ad blocker interference detected!
Wikia is a free-to-use site that makes money from advertising. We have a modified experience for viewers using ad blockers

Wikia is not accessible if you've made further modifications. Remove the custom ad blocker rule(s) and the page will load as expected.