DC Comics has released details regarding the second Young Justice comic collection, which is scheduled to be released in November 2012. Details below courtesy of the World's Finest
DC Comics
has released preliminary details for the next
Young Justice
trade paperback collection set to hit shelves in November 2012.
Preliminary details for the next Young Justice trade paperback release, collecting seven more issues of the ongoing Young Justice comic series, have been released by DC Comics. The Young Justice comic title expands on the continuity of the hit animated series, telling stories taking place between episodes of the top-rated cartoon. The early details for the next Young Justice trade paperback are available below.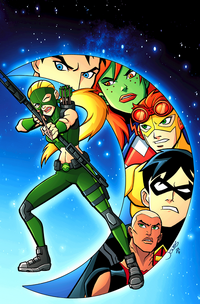 Young Justice - Volume Two: Training Days TP
Writers: Kevin Hopps and Greg Weisman
Artists: Christopher Jones and Dan Davis
Collects: Young Justice #7-13
$12.99 US, 160 pg

The seven issues featured in the trade paperback include a two-part story focused on Artemis, a two-part story featuring Captain Atom, and loosely connected three-part tale featuring Ra's al Ghul and Clayface.
The first Young Justice trade paperback, collecting issues #0 - 6 of the comic title, was released in January 2012. Additional comic details can be found here.
In additional Young Justice details, new episodes of the acclaimed animated series are slated to kick off beginning March 3rd, 2012 on Cartoon Network. Schedule details can be found here. The all-new episode "Misplaced" is slated to air at 10:30am (ET) on Saturday, March 3rd, 2012, which subsequent new episodes to follow for the remainder of the month as part of the DC Nation programming block. The show will be paired with new episodes of Green Lantern: The Animated Series.
| | |
| --- | --- |
| | Please remain civil. You should not harass other users or their views. |
Ad blocker interference detected!
Wikia is a free-to-use site that makes money from advertising. We have a modified experience for viewers using ad blockers

Wikia is not accessible if you've made further modifications. Remove the custom ad blocker rule(s) and the page will load as expected.