So I was listening to AC/DC in the car the other day, when my 8 year old son informs me that the lead singer sounds just like Klarion the Witch Boy. After a couple more songs I had to agree, and it got me to wondering...
Who do the other characters sound like?
Has anyone else thought about this? Do any of your favourite Young Justice characters have a "voice twin"...?
-G-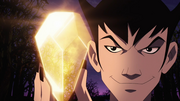 Ad blocker interference detected!
Wikia is a free-to-use site that makes money from advertising. We have a modified experience for viewers using ad blockers

Wikia is not accessible if you've made further modifications. Remove the custom ad blocker rule(s) and the page will load as expected.