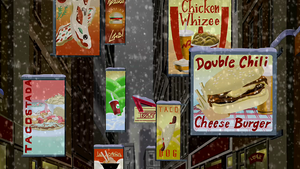 Tacostada, or Tacostada Unlimited, is a fast food restaurant located in Central City and Chicago.
History
2010
Patrons at the Tacostada Unlimited in the Central City Mall were scared by the rampage of the Terror Twins.[1]
Kid Flash passed by a Tacostada on his way to Montana.[2]
Sightings
References
↑ Hopps, Kevin, Greg Weisman (w). Norton, Mike (a). Sinclair, Alex (col). Lanham, Travis (let). McCalister, Michael, Scott Peterson (ed). "Stopover" Young Justice 0 (January 19, 2011), New York, NY: DC Comics
↑ Weisman, Jon (writer) & Cook, Victor (director) (March 10, 2012). "Coldhearted". Young Justice. Season 1. Episode 20. Cartoon Network.