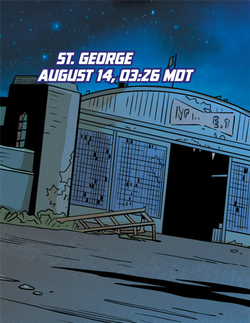 St. George
is a city in Utah.
History
Henry Yarrow lured the Team to an abandoned air base near St. George. However, despite help from Alec Rois and Rako, he was defeated and captured.[1]
Sightings
References
↑ Weisman, Greg, Kevin Hopps (w). Jones, Christopher, Carrie Strachan (p). Davis, Dan (i). Atkinson, Zac (col). Sienty, Dezi (let). Chadwick, Jim (ed). "Hot Case" Young Justice 10 (November 16, 2011), New York, NY: DC Comics
External links
Ad blocker interference detected!
Wikia is a free-to-use site that makes money from advertising. We have a modified experience for viewers using ad blockers

Wikia is not accessible if you've made further modifications. Remove the custom ad blocker rule(s) and the page will load as expected.