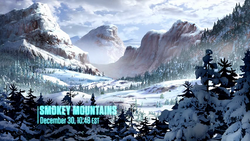 The Smokey Mountains are a mountain range in Tennessee and North Carolina.
History
2010
Riddler laid an ambush for the Team in a snowy valley. Cheshire served as bait, taking a charter plane from Asheville, and crashing it in the mountain range. After the Team arrived, the entire valley was locked with a forcefield, and Riddler's cohorts took on the young heroes. In the end, Riddler, Mammoth and Shimmer were arrested, though Cheshire got away.[1]
Sightings
References
External links
Ad blocker interference detected!
Wikia is a free-to-use site that makes money from advertising. We have a modified experience for viewers using ad blockers

Wikia is not accessible if you've made further modifications. Remove the custom ad blocker rule(s) and the page will load as expected.