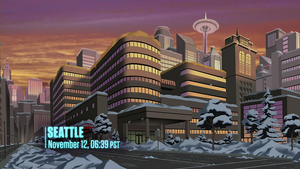 Seattle is a city in Washington.
History
2010
Kid Flash delivered the donor heart for Queen Perdita to the Seattle Medical Center. After a fight with Count Vertigo, he collapsed and had to be hospitalized.[1]
Count Vertigo is lured into a trap and stripped of his diplomatic immunity by Perdita.[1]
Sightings
References
External links
Ad blocker interference detected!
Wikia is a free-to-use site that makes money from advertising. We have a modified experience for viewers using ad blockers

Wikia is not accessible if you've made further modifications. Remove the custom ad blocker rule(s) and the page will load as expected.