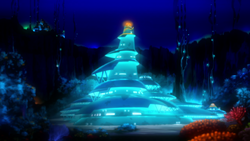 The Science Center is a facility in Atlantis, located in the city of Poseidonis. The head of the Science Center is Vulko, the chief scientific advisor of Atlantis.
History
2010
The Science Center was attacked by Black Manta. The Center's main dome was melted, and a starfish creature that the Center had been researching was destroyed.[1]
Sightings
References
Ad blocker interference detected!
Wikia is a free-to-use site that makes money from advertising. We have a modified experience for viewers using ad blockers

Wikia is not accessible if you've made further modifications. Remove the custom ad blocker rule(s) and the page will load as expected.