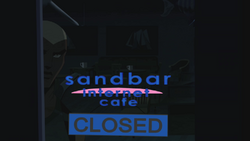 The Sandbar is an Internet café in Happy Harbor.
History
2010
Aqualad and Serling Roquette hid from the League of Shadows in the Sandbar. Roquette used the café's computers to finish the virus that could take out the Fog.[1]
Sightings
References
Ad blocker interference detected!
Wikia is a free-to-use site that makes money from advertising. We have a modified experience for viewers using ad blockers

Wikia is not accessible if you've made further modifications. Remove the custom ad blocker rule(s) and the page will load as expected.