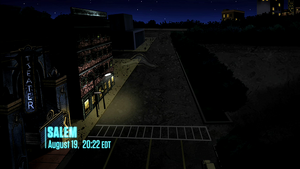 Salem is a city in Massachusetts.
History
Early history
In the 1940s, Salem became the home of Kent and Inza Nelson. Kent Nelson constructed his Tower of Fate in the city but it usually remains hidden in the Nexus of Subtle Realms.[1]
2010
Klarion and Abra Kadabra tortured Kent Nelson at an abandoned theater for 23 days to gain access to the Tower, to get the Helmet of Fate. On August 19, 20:22 EDT, the Team arrived in Salem and brought the Tower of Fate to the physical plane.[1]
Members of the Team, the Justice League and the Justice Society of America attended the funeral of Kent Nelson. Red Tornado gave the eulogy.[2]
Sightings
Real world background
Salem was settled in 1626. It is now a city in the Essex County of the state of Massachusetts. Noted for its historic architecture and waterfront, Salem is more famous for its role in the Salem Witch Trials of 1692. In the present, it still has a large attraction in tourism related to witchcraft.
References
↑ 1.0 1.1 Pugsley, Tom (writer) & Chang, Michael (director) (February 18, 2011). "Denial". Young Justice. Season 1. Episode 7. Cartoon Network.
↑ Weisman, Greg, Kevin Hopps (w). Jones, Christopher (p). Davis, Dan (i). Atkinson, Zac (col). Sienty, Dezi (let). Chadwick, Jim (ed). "The Pit..." Young Justice 11 (December 21, 2011), New York, NY: DC Comics
External links