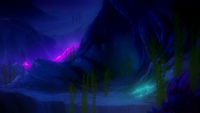 S'atiroman Cave is a cave in Old Roman's Trench used as Ocean-Master's lair.
History
2010
Ocean-Master briefed his loyal purists about the last phase in the plan to cleanse Poseidonis of impure influences. They needed to abduct Queen Mera first.[1]
Mera was brought to the cave, and Ocean-Master started draining her life force. He confided with her his true plan: not racial superiority, but a civil war between the impure and Poseidonis. Ronal overheard it and changed sides; Aqualad and his friends arrived shortly after. Garth summoned the power of the Tempest to overwhelm the villain, who was forced to retreat.[2]
Sightings
References
↑ Weisman, Greg, Kevin Hopps (w). Jones, Christopher (a). Atkinson, Zac (col). Sienty, Dezi (let). Chadwick, Jim (ed). "Under the Surface..." Young Justice 14 (March 21, 2012), New York, NY: DC Comics
↑ Weisman, Greg, Kevin Hopps (w). Jones, Christopher (a). Atkinson, Zac (col). Sienty, Dezi (let). Chadwick, Jim (ed). "...Here There be Monsters" Young Justice 15 (April 18, 2012), New York, NY: DC Comics