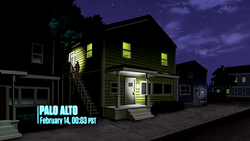 Palo Alto is a city in California and the residence of Wally West and Artemis Crock.[1]
Locations
History
2016
Wally arrived home after trying to convince Red Arrow to seek help. Artemis consoled him and they celebrated Valentine's Day together.[1]
Artemis was preparing to go on a special mission for Nightwing. Wally, who was watching G. Gordon Godfrey's show, did not like the idea, but did not stop her.[3]
Known residents
Sightings
Background information
References
External links
Ad blocker interference detected!
Wikia is a free-to-use site that makes money from advertising. We have a modified experience for viewers using ad blockers

Wikia is not accessible if you've made further modifications. Remove the custom ad blocker rule(s) and the page will load as expected.