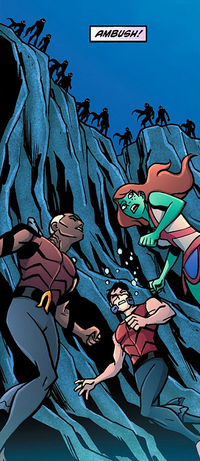 Old Roman's Trench is a location in Atlantis, near the capital Poseidonis.
History
2010
Ocean-Master laid a trap for Aqualad, Superboy and Miss Martian in the trench. It quickly turned into a large battle when La'gaan, King Sha'ark, Lori Lemaris, Blubber, Tula and Garth joined the fight. Though Ocean-Master used a spell to weaken the impure Atlanteans, Superboy's infrared vision and Topo's ink screen eventually gained Aqualad and his friends the victory.[1]
Sightings
References
Ad blocker interference detected!
Wikia is a free-to-use site that makes money from advertising. We have a modified experience for viewers using ad blockers

Wikia is not accessible if you've made further modifications. Remove the custom ad blocker rule(s) and the page will load as expected.