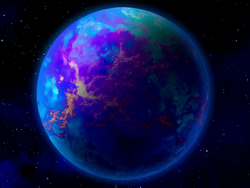 New Genesis is one of the home planets of the New Gods. Its inhabitants are gods of life, freedom, and the Source. They are at war with Apokolips.[1]
Language
Language
Line
Translation
New Genesisian
Bear: Hero Danjar!
We have arrived on Earth![2]
Serifan: Zon! Nos kemnos! Danjar tharan, thanka, tabore...
Yes! Just as I imagined it! Earth's beautiful, flora and fauna...[2]
Sightings
References
Ad blocker interference detected!
Wikia is a free-to-use site that makes money from advertising. We have a modified experience for viewers using ad blockers

Wikia is not accessible if you've made further modifications. Remove the custom ad blocker rule(s) and the page will load as expected.