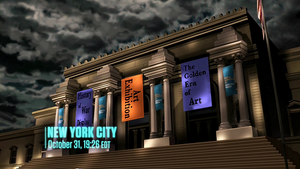 The Metropolitan Museum of Art is a museum in New York City.
History
2010
The Metropolitan Museum of Art suffered a break in that was being investigated by the police, led by Jim Daniels. The only thing taken was the Sword of Beowulf; when the curator let slip valuable information concerning the sword, the thief, Harm, used it to attack the police.[1]
2015
Aquagirl visited the museum with two mystical artifacts so she could study them better. She relayed that information to Mount Justice. Klarion ambushed her, and took the artifacts.[2]
Sighting
References
External links
Ad blocker interference detected!
Wikia is a free-to-use site that makes money from advertising. We have a modified experience for viewers using ad blockers

Wikia is not accessible if you've made further modifications. Remove the custom ad blocker rule(s) and the page will load as expected.