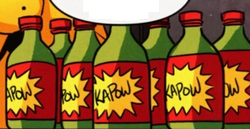 Kapow was an energy drink.
History
Kapow came in small green bottles, little more than an inch in diameter. The brand name was printed with large letters on a yellow and red sticker.
The drink's manufacturer was owned by Farano Enterprises, and as such, there were always a few boxes in stock at the Farano headquarters. Kid Flash refuelled himself with the drink when he tried to save Selena Gonzalez.[1]
Sightings
References