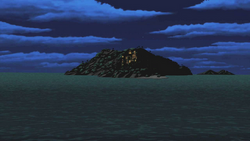 Infinity Island is an island headquarters of the League of Shadows, located somewhere in the Caribbean Sea. The League has a vast fortress complex on the island, with modern security and numerous guards. It also has a Lazarus Pit.
History
2010
Matt Hagen convinced Talia al Ghul to give him access to the Lazarus Pit. However, because he had deceived her, she locked him inside.[1]
Infinity Island
July 8,

22:18

ECT

Sensei briefed his assassins on their next target, Selena Gonzalez.[2]
Dr. Serling Roquette was held prisoner on Infinity Island after her kidnapping, and forced to create the Fog. Red Arrow infiltrated the island and rescued Roquette.[3]
After being killed on a mission at Cape Canaveral, Ra's al Ghul's body was revived in the Lazarus Pit.[4] Moments after he left, Hagen rose from the pit, and attacked them until he was put into an inert state by Ra's.[1]
2014
Red Arrow, under cover in the League, rested on the island with his partner Cheshire. He began to see some good in her.[5]
After his cover was blown, Red Arrow was able to escape the island with Cheshire. They fled to Fort-de-France.[5]
Appearances
References
↑ 1.0 1.1 Weisman, Greg (w). Vecchio, Luciano (a). Atkinson, Zac (col). Sienty, Dezi (let). Chadwick, Jim (ed). "The Pendulum" Young Justice 12 (January 18, 2012), New York, NY: DC Comics
↑ Aureliani, Franco, Art Baltazar (w). Norton, Mike (a). Sinclair, Alex (col). Mangual, Carlos M. (let). Chadwick, Jim (ed). "Hack and You Shall Find" Young Justice 3 (April 20, 2011), New York, NY: DC Comics
↑ Weisman, Jon (writer) & Oliva, Jay (director) (February 11, 2011). "Infiltrator". Young Justice. Season 1. Episode 6. Cartoon Network.
↑ Weisman, Greg, Kevin Hopps (w). Jones, Christopher (p). Davis, Dan (i). Atkinson, Zac (col). Sienty, Dezi (let). Chadwick, Jim (ed). "The Pit..." Young Justice 11 (December 21, 2011), New York, NY: DC Comics
↑ 5.0 5.1 Scott, Sharon, Brandon Vietti, Greg Weisman (writers), Young Justice: Legacy (November 19, 2013): Red Arrow journal #6. Santa Ana, CA: Little Orbit