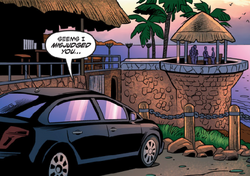 Honolulu
is a city in Hawaii.
Randy
and
Peggy Eiling
live there.
[1]
History
2010
Artemis and Aqualad questioned Peggy and Randy about the trial of Captain Nate Adams.[1]
After they found out Adams was innocent, Artemis and Aqualad returned to inform his children. Persuaded by Wade Eiling, Captain Atom revealed his secret identity to them.[2]
Sightings
Background information
References
↑ 1.0 1.1 Hopps, Kevin, Greg Weisman (w). Davis, Dan, Christopher Jones (p). Davis, Dan (i). Atkinson, Zac (col). Sienty, Dezi (let). Chadwick, Jim (ed). "Cold Case" Young Justice 9 (October 19, 2011), New York, NY: DC Comics
↑ Weisman, Greg, Kevin Hopps (w). Jones, Christopher, Carrie Strachan (p). Davis, Dan (i). Atkinson, Zac (col). Sienty, Dezi (let). Chadwick, Jim (ed). "Hot Case" Young Justice 10 (November 16, 2011), New York, NY: DC Comics
External links