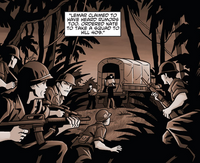 Hill 409 was a designation given to a hill in Vietnam during the war.
History
General Lemar ordered Capt. Adams to take a squad to Hill 409 to investigate a weapons smuggling ring. The squad found the smugglers, but was ambushed; only Adams and Lt. Yarrow escaped alive.[1]
Appearance
References
↑ Hopps, Kevin, Greg Weisman (w). Davis, Dan, Christopher Jones (p). Davis, Dan (i). Atkinson, Zac (col). Sienty, Dezi (let). Chadwick, Jim (ed). "Cold Case" Young Justice 9 (October 19, 2011), New York, NY: DC Comics
Ad blocker interference detected!
Wikia is a free-to-use site that makes money from advertising. We have a modified experience for viewers using ad blockers

Wikia is not accessible if you've made further modifications. Remove the custom ad blocker rule(s) and the page will load as expected.