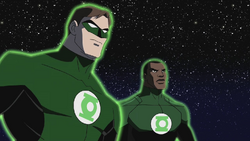 The Green Lantern Corps is the intergalactic police force of the universe, led by the Guardians of the Universe.[1]
Organization
Two Green Lanterns are assigned to each sector of space.[2] Green Lanterns are not necessarily assigned to their home sector. Earth lies in Sector 2814.[3]
Members
Equipment
Green Lanterns access their powers by means of their power rings, which allow them to fly and create solid energy constructs of green light.[4]
References
Ad blocker interference detected!
Wikia is a free-to-use site that makes money from advertising. We have a modified experience for viewers using ad blockers

Wikia is not accessible if you've made further modifications. Remove the custom ad blocker rule(s) and the page will load as expected.