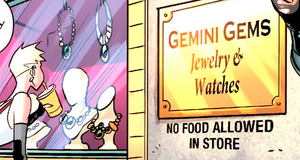 Gemini Gems is a jewelry and watches store in the Central City Mall.
History
The Terror Twins stole a $2,000 necklace. They manhandled the store's clerk and threw a mall cop out of the store. Kid Flash and Superboy, who were also in the mall, managed to save both the clerk and the mall cop, and took on the twins. The fight eventually moved outside the mall.[1]
Sightings
References
↑ Hopps, Kevin, Greg Weisman (w). Norton, Mike (a). Sinclair, Alex (col). Lanham, Travis (let). McCalister, Michael, Scott Peterson (ed). "Stopover" Young Justice 0 (January 19, 2011), New York, NY: DC Comics
Ad blocker interference detected!
Wikia is a free-to-use site that makes money from advertising. We have a modified experience for viewers using ad blockers

Wikia is not accessible if you've made further modifications. Remove the custom ad blocker rule(s) and the page will load as expected.