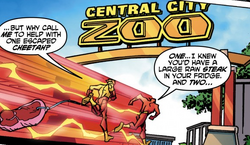 The Central City Zoo is the zoo of Central City.
History
2010
In order to mask the theft of a sample of cobra venom, Mammoth released a large amount, if not all, of the animals from their pens and cages. Flash and Kid Flash had to round them all up and herd them together, before containing them with a speedily dug trench. With the animals in their pens and the visitors safe, they investigated the herpetology lab. There, they discovered the theft of the vial of venom.[1]
Sightings
References
Ad blocker interference detected!
Wikia is a free-to-use site that makes money from advertising. We have a modified experience for viewers using ad blockers

Wikia is not accessible if you've made further modifications. Remove the custom ad blocker rule(s) and the page will load as expected.