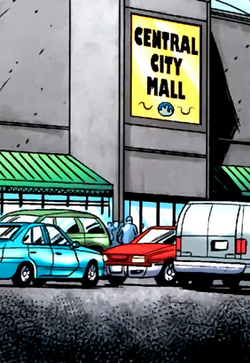 Central City Mall is a shopping complex in Central City.
History
2010
Wally West took Superboy to get new clothes from Forever Sixteen in the mall. At the same time, the Terror Twins robbed Gemini Gems. Wally West and Superboy (disguising themselves with colored bandanas) fought the twins in the Food Court, where the villains had taken civilians hostage. Wally and Superboy lured the Terror Twins outside, away from the hostages, and the villains were scared away by the arrival of Flash and Superman. Afterwards, Wally and Superboy returned to Forever Sixteen to pick up Superboy's new clothes.[1]
Stores
Big Big Pants
Bigstör
Burger X.T.C.
Cinema 50
Shoes-n-Stuff
Sightings
References
↑ Hopps, Kevin, Greg Weisman (w). Norton, Mike (a). Sinclair, Alex (col). Lanham, Travis (let). McCalister, Michael, Scott Peterson (ed). "Stopover" Young Justice 0 (January 19, 2011), New York, NY: DC Comics
Ad blocker interference detected!
Wikia is a free-to-use site that makes money from advertising. We have a modified experience for viewers using ad blockers

Wikia is not accessible if you've made further modifications. Remove the custom ad blocker rule(s) and the page will load as expected.