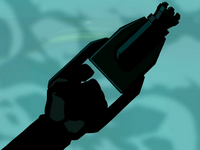 The batrope is a rope with grapple used by Robin, Batgirl, and Batman. The rope stretches to approximately 28 stories (303 feet).[1]
Known users
Sightings
References
↑ 1.0 1.1 Weisman, Greg (writer) & Oliva, Jay (director) (November 26, 2010). "Independence Day". Young Justice. Season 1. Episode 1. Cartoon Network.
↑ Vietti, Brandon (writer) & Murphy, Doug (director) (May 26, 2012). "Beneath". Young Justice. Season 2. Episode 5. Cartoon Network.
↑ Weisman, Greg, Kevin Hopps (w). Jones, Christopher (p). Davis, Dan (i). Atkinson, Zac (col). Sienty, Dezi (let). Chadwick, Jim (ed). "The Pit..." Young Justice 11 (December 21, 2011), New York, NY: DC Comics
Ad blocker interference detected!
Wikia is a free-to-use site that makes money from advertising. We have a modified experience for viewers using ad blockers

Wikia is not accessible if you've made further modifications. Remove the custom ad blocker rule(s) and the page will load as expected.