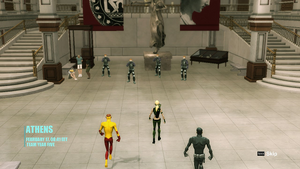 Athens
is the capital of Greece.
History
2012
On the hunt for the original Roy, Red Arrow tracked Lex Luthor's operations to Greece.[1]
2015
Artemis and Alpha Squad headed to the Museum of Natural History to look through the artifacts Helena Sandsmark's team had uncovered at the Olympia dig site. They discovered Sportsmaster and the League of Shadows were also there, holding the museum's visitors hostage. As seismic activity rocks the building, the Team evacuates the museum with John Stewart's help. Sportsmaster escapes with the most important artifact.[2]
Notable locations
Sightings
References
↑ Scott, Sharon, Brandon Vietti, Greg Weisman (writers), Young Justice: Legacy (November 19, 2013): Red Arrow journal #4. Santa Ana, CA: Little Orbit
↑ Scott, Sharon, Brandon Vietti, Greg Weisman (writers), Young Justice: Legacy (November 19, 2013): Greece. Santa Ana, CA: Little Orbit
External links