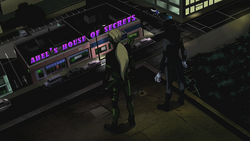 Abel's House of Secrets is a magic store in New York City.
History
Early history
The store was located near the home of Harm and his sister Greta. Its partially broken neon sign was the last thing Greta saw before she died.[1]
Sightings
Background information
In the comics, the House of Secrets is a mansion that played a large role in mystical and magical stories since the 70s. Abel is the biblical Abel, son of Adam and Eve, who served as the host of House of Secrets, while his brother Cain was host of House of Mystery, based in the titular mansion.
References
Ad blocker interference detected!
Wikia is a free-to-use site that makes money from advertising. We have a modified experience for viewers using ad blockers

Wikia is not accessible if you've made further modifications. Remove the custom ad blocker rule(s) and the page will load as expected.